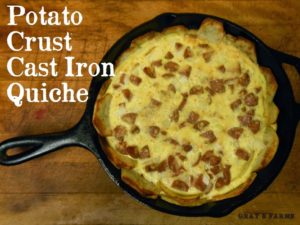 Once upon a time, I thought quiches were gross. (My life was boring then, and I was not a very adventurous eater.) However, to my good fortune the day came to break out of the shell! I discovered that quiches were in fact delicious.
Then things changed.
I found potato crust quiches. My world was rocked, what a delicious and healthy alternative to a traditional pie crust!
Add the all time favorite chicken apple sausage and apple wood smoked gouda cheese; you find yourself with a winning combo. My husband loves it, we almost ate the whole thing in one night!
The first time I baked this I used a traditional pie pan, the second a cast iron skillet. With the cast iron skillet the potatoes were crisper, however, the pie pan works great too.
Part 1-the Crust:
3-4 red potatoes skinned and sliced
2 tablespoons olive oil
1 tablespoon garlic salt
1 teaspoon pepper
Preheat oven to 425°F. Grease cast iron skillet or pie pan, set aside. Place sliced potatoes in mixing bowl, add olive oil, garlic salt, and pepper and mix. Layer on pan like a crust, it's ok to overlap layers, cover large gaps.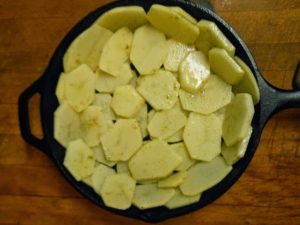 Place in oven and bake for 25 minutes, or until lightly browned.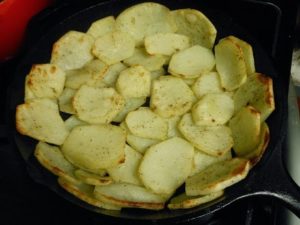 Part 2-the Filling
4 eggs
1/2 cup of half and half
1 cup shredded apple wood smoked gouda cheese
2 cups of diced sausage
1/4 cup diced onions
Salt and pepper
Combine ingredients in mixing bowl. I don't use too much salt in the filling since there is plenty on the crust. When potatoes are finished, pull out of oven. Pour egg mixture over potatoes, some of it might seep onto the pan. This is fine, it will still bake nicely.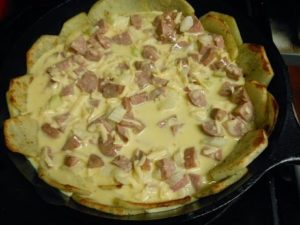 Lower oven temperature to 350° F, bake around 20 minutes or until set. Then serve warm!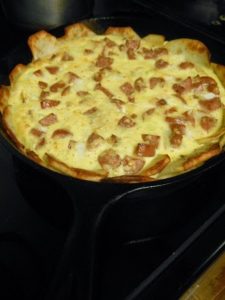 If you have any leftovers to store for later, the quiche easily scoops out of the skillet.
Hope you love this dish as much as we did!
Nancy Jane