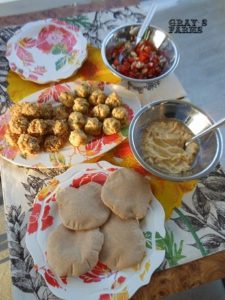 Pita party!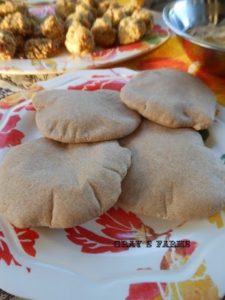 Look at them, all puffed up!
Everyone should join the pita party. It brings the baker a great delight seeing the little brown circles puff up like balloons in the oven. Even greater joy taking a knife and opening up the bread to see the little pocket formed inside the bread. These darn little circles of dough are just too fun to bake! (And eat…) You can see your baking skills pop up right in front of you!
Another great thing about pitas is you can make them ahead of time! Just stick the dough in a Ziploc bag and refrigerate!
Whole Wheat Pitas
3 cups whole wheat flour
1 1/2 teaspoon salt
1 1/2 teaspoon instant yeast
1 1/4 cup warm water
2 tablespoon olive oil
Combine all the ingredients in bread maker. Let knead for 45 minutes in machine. When done, put in bowl. Cover bowl tightly and let rise for 1 1/2 hours, or until dough has risen double in size.
When time as come for baking, place a baking stone in oven. Preheat oven to 450°F.
Take dough, roll out balls of dough, about size of golf balls if you wish to have small pitas. Let dough set for 10 minutes, then flatten with a rolling pin on parchment paper. Bake 3-4 pitas at a time for 5-10 minutes, or until pitas have fully "ballooned".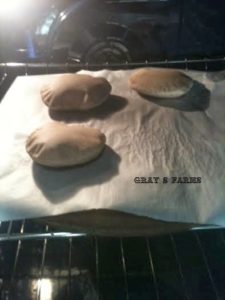 Look how big they get!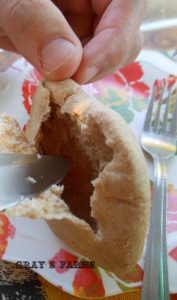 They open right up! (By the way, those are not my man hands!)
You can serve them warm or cold. My husband and I enjoy filling the pitas with hummus, tomato-cucumber-onion salad, and chicken. Very, very enjoyable!
Nancy Jane