You read correctly, Pinot Noir pepper.  No, it is not wine that tastes like pepper, or a pepper that tastes like wine; it's a delicious produce all are sure to enjoy.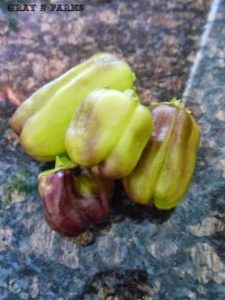 The pepper begins in a light green hue when young and matures into a variety of colors; including berry, citrus, and cherry red (though my crop mostly grew berry with a few reds). The size of the peppers vary, I had both big and small ones. If you would like to grow mostly large ones, the peppers can be thinned.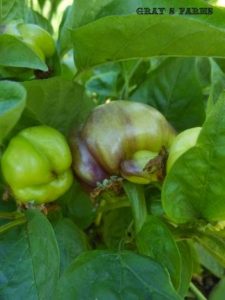 It does very well in slightly hot weather, but as soon as it gets over 100 degrees Fahrenheit the crop slows down slightly. The peppers continued to produce well into December and only stopped because we finally got a frost!
When cooked the flavor feels hot, but does not have that spicy kick. This appeals to me since my taste buds cannot handle the spiciness. (A word of warning, the pepper is not very tasty when eaten raw) They are fantastic in quiches, fajitas, stir fries, pizza, and omelets!
You can purchase the seeds at Burpee Seeds and start them from home!